Cap sealers provide tamper evidence
Mar 13th, 2009 | By
Mark Plantier
| Category:
Did You Know?
It's no accident that so many packagers rely on cap sealers for tamper evidence. Cap sealers provide a clean, effective and non-contact means of achieving tamper-evidence.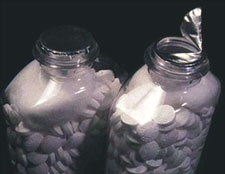 The induction field created by a cap sealer is designed to create a hermetic seal between a cap liner and the lip of a container. When the correct type of heat sealable foil laminate  is used this seal can not be removed without leaving evidence on the lip of the container.
The use of induction heating to seal containers was first pioneered in the late 1950's. At that time the focus was on preventing leaks. After the Tylenol poisonings in the 1980's, pharmaceutical companies adopted induction sealing for its ability to provide  tamper evidence. The induction seal went a long way in restoring consumer confidence in over the counter medications. Today, consumers now expect a safety-seal when they open a container filled with pills, tablets or liquid OTC products.
In addition to the pharmaceutical market place induction cap sealers are used in a wide range of industries including the food, beverage, dairy, household products, petroleum, and chemical markets.