Induction cap sealing in India
Aug 9th, 2010 | By
Mark Plantier
| Category:
Did You Know?
Induction cap sealing in India is growing at a rapid rate.  And as the sophistication of retail stores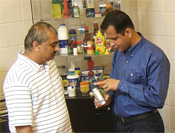 continue to emerge the expectations of Indian consumers are also on the rise.
Induction sealers create hermetic seals that prevent leaks, preserve freshness and provide tamper-evidence. Companies in the pharmaceutical, food, beverage, petroleum industries are creating product differentiation and consumer preference for their brands by ensuring these features are delivered to Indian households.
That's why packagers across India from Bangalore, Chennai, Kochi, Hosur, Kolkata, Mumbai, New Delhi, and Hyderabad are incorporating induction sealing as part of their packaging strategy.  As a non-contact packaging process induction cap sealers are very easy to integrate into any packaging line. New high performance air cooled systems are making it easier than ever for start-up operations and high speed packagers to add value to their products with an induction seal.
Follow this link to see some of the companies who currently induction seal in India.